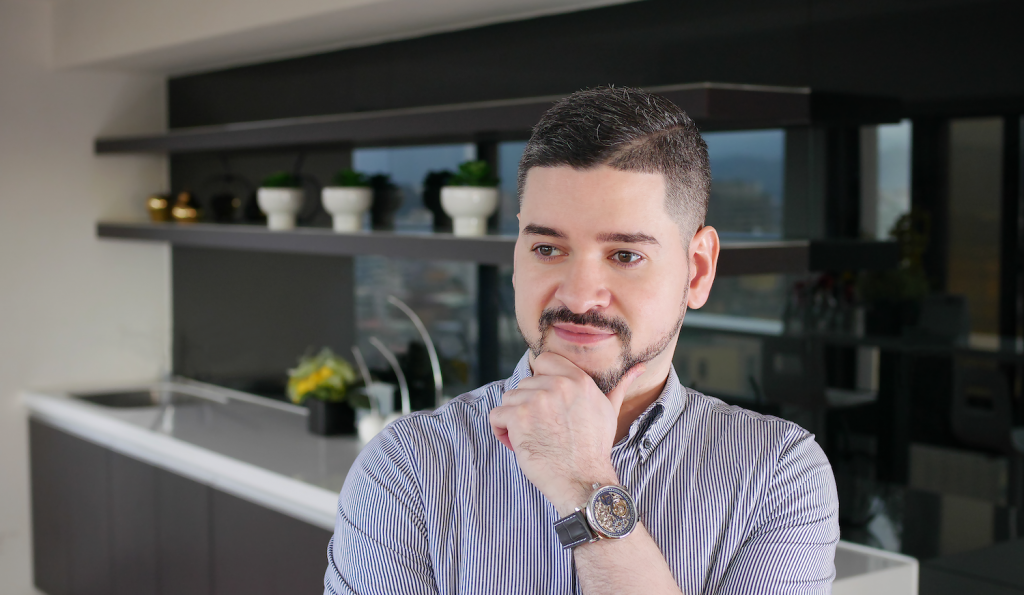 Initially ridiculed by the public as a silly trend, wrist watches soon became the norm as their practicality made pocket watches obsolete.
However, given that everyone now owns a cell phone, some might argue that wrist watches are slowly becoming obsolete. Why should a modern man wear a wrist watch when he could easily consult his phone for a quick time-check? Well, besides the fact that wearing a watch/timepiece looks great, it can also be a matter of convenience, feeling good, a status symbol and a deeper meaning of actually paying attention to time and making every minute count, which being locked into your phone screen doesn't really do/help that deeper meaning.
It's A Glam Thing wanted to dive into the mind of a timepiece creator, and so we sat down with Michael Galarza, the founder of ERA Timepieces, a luxury timepiece company that has set out with one singular goal: to take haute horlogerie complications and make them accessible to the common man. After raising over a million dollars via crowdfunding, Michael and his team are proving this goal is within reach!
From his own personal style, to the watch industry, to advice for others, here's our interview with Michael:
NICK NORTHSTAR: How would you describe your own personal style, both while at home and while working?
MICHAEL GALARZA: Since I work for myself, my personal style is my business style as well. I'm usually in a fitted quirky T-shirt and fitted jeans, with sneakers. I like to dress more casually typically.
NN: The word "Glamorous" can mean many different things… what is its definition to you?
MG: Glamorous to me means you are such a spectacle that others can't help looking at you.
NN: Usually luxury timepieces cost tens of thousands of dollars… how are you able to make yours so affordable, yet still compare everything to other luxury brands?
MG: Even though our customers can easily afford to pay 5-6X more for our wares, we find there's simply no reason to overcharge them like that. I believe in delivering a stellar product at a fair price, and selling direct to consumer lets me offer it at such competitive prices.
NN: What makes your products different than others on the market feature-wise?
MG: I do not think you can find a better value propositioned timepiece on the market at our price point. Tourbillons typically are only found in minimum 5 and 6 figure watches and we aim to recreate 99% of the experience (and then some) for a fraction of the price.
NN: What is your advice to anyone wanting to pursue their dreams and create their own products?
MG: Get market validation from people who aren't obligated to be nice to you. What's the brutal truth from your target customer who isn't your friend? It's better to find that out fast to fix the things that need to be fixed than spend time procrastinating and ultimately creating something no one wants.
NN: What other trends outside of the watch industry, but in the fashion world, do you see happening these days?
MG: I see a rapid speed up of using exotic materials and technologies (like synthetic spider DNA weaving) that creates even more high performance materials to be used in clothing and accessories. With the advent of 3D printing and other advanced manufacturing, it's only going to happen more and more
NN: What is the biggest lesson you have learned so far from running your own company?
MG: Do the right thing and listen well to your customers because it's ultimately only their opinion that matters.
NN: Who are some of your mentors?
MG: Most of my mentors have in the form of reading a ton like Eric Ries's the Lean Startup, etc but I would say my co-partner Tim at ERA has been the biggest mentor in all aspects of business for me. His experience and insight into the macro view of how the entire world works and how all the parts fit together never ceases to amaze me.
NN: What other products are you currently working on for this year and next?
MG: We're going to be releasing an entire line in likely May with a rare complication that hasn't really been seen too much in the last 25 years. We'll be making 2 different takes on it – one will be a Diver with a unique case featuring the complication by itself and a Swiss Movement, and the other will be mixing that complication with a Tourbillon, which I believe will be the first time that's been done. Both of them will be custom movements that we've been designing for some time and slowly testing. Finally, we'll be launching a more minimal dress watch for men/women with just the Tourbillon on it at a much smaller dial size, as there's been some number of requests from people who want the Tourbillon but 44mm was too large for them.
NN: How do you want your customers to feel after wearing one of your timepieces?
MG: I'd say glamorous would be a good feeling — I'd want all my customers to feel like they are wearing a thing of such beauty that everyone HAS to be looking at them.