One lucky winner will receive an It's a Glam Thing Beauty Box™ (valued at over $200.00). Your Beauty Box™ will include the newest, most unique, tested and true beauty products that we love and adore. Each box will include a selection of Full Size products chosen especially for you from our team of beauty experts. Enter today!
Featured in this month's Beauty Box Giveaway:
Intensive Recovery Japanese Binchotan Zumi Mask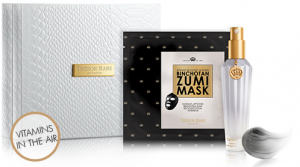 This ultra-precise, high-performance, intensive age defying treatment mask is perfectly adapted to the skin. Its excellent fit assures ultimate penetration of unique double-layered specialty ingredients into the skin. An incredible formula with advanced technology that helps in detoxifying, lifting, refining skin texture and reducing the appearance of wrinkles. Once applied to the face, this mask made of active charcoal, releases negative ions also known as "Vitamins in the Air." They are capable of balancing the skin and returning its natural balance. Skin looks younger and more radiant.
This amazing serum  starts off black and disappears into the skin – containing active charcoal; Mother Nature's natural skin purifier.
Bottle: This luxurious, active charcoal mask is saturated with beneficial ingredients and moisture. Leaves skin feeling amazingly smooth, detoxified and younger looking.
Mask: Structure of the skin.This double-layered mask contains positive ions and excellent age defying and lifting plant extracts for a complete over all skin treatment.
Application: Use once a week. Onto clean skin, open the single mask pack and apply to the face, allow it to infuse the skin for 10 minutes or more. To fully experience, massage the mask with your fingers, this will cause more negative ions to be released, rinse with warm water. The mask is made from 100% pure, mild, skin friendly plant fiber, and is 100% fully biodegradable. Contains 12 masks. Retail Price: 5k Available at Tresor Rare Stores Nationwide.
The Trésor Rare elite team of skin-care experts have pushed for over 7 years to set a new standard in superb, age-defying skin care products with one aim in mind: restoring skin to its most youthful appearance. The Tresor Rare line of products was selected as a finalist in the HBA (Health Beauty America) Skin Care Prestige Category for 2015.