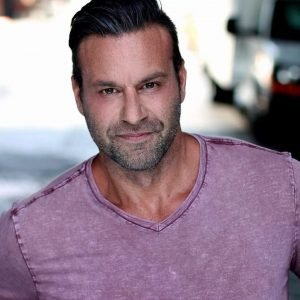 From being a bodyguard to celebrities such as Kim Kardashian, to being a male entertainment dancer to help pay the bills while chasing his dreams, to hunting down criminals as a former NYPD officer, current actor/director Steve Stanulis has experienced a lifetime of things that makes him who he is today.
Through all his life hurdles and experiences, Steve has always remained one fashionable guy, and so It's A Glam Thing just had to sit down with him ahead of the release of some of his new films & projects to find out more!
NICK NORTHSTAR: How would you describe your own personal style – both while at home and on the red carpet?
STEVE STANULIS: I like to always be a little more dressy, usually a suite with a t-shirt under the suit. I don't believe in going to Red Carpets in just jeans and a t-shirt.
NN: You are based in New York… what about the city do you love most? Would you ever move here to Hollywood?
SS: Being a native New Yorker, I love the energy and the realness of the people here in New York City, you always know where you stand. I always love my time in LA, especially the weather, but I am an East Coast guy through and through.
NN: As a former male entertainment dancer, are you big into clothing and fashion (ha-ha)?
SS: Usually most male dancers are known to usually wear tight jeans and tank tops to show off their physique. I actually became more fashion conscious when I left the male review circuit.
NN: You are also a former NYPD officer… What about this time in your life do you cherish most?
SS: What I miss most about being and NYPD Officer, is the camaraderie of the guys and the times we spent through the good times and the bad times.
NN: You also worked as a bodyguard to people like Kim Kardashian… what was your "go-to" outfit for that type of work?
SS: The uniqueness of my experience as a bodyguard is a little different at 5'11 and 195 pounds, I don't fit the criteria of what a body guard should be. I was always hired to look like I fit in with the client but still have the ability to show my shield as a police officer, which always got a positive response from fans of the client.
NN: What is your favorite Instagram filter? Or #NoFilter?
SS: I tend to prefer no filter. I believe a picture should look in its most natural form.
NN: What is your advice to anyone wanting to move and work in the entertainment industry in New York?
SS: New York is not an easy place by any means. It is probably a lot harder to break into the entertainment business her than on the West Coast. If you stay focused and have tenacity you can make anything happen. Just like the famous saying, "If you can make it here you can make it anywhere".
NN: What has been your favorite outfit / costume to wear while on a set of a film/show?
SS: That is a great question! By far to date was my guest star on The Deuce, which had me in full 70's attire from head to toe. The details down to the watch and jewelry were amazing.
NN: What upcoming projects do you have?
SS: I have Clinton Road coming out which is a film based on a real road in New Jersey, starring Ice-T which I directed. We are also in pre-production on a film called Chronicles of a Serial Killer, which is like Seven meets Silence of the Lambs. I am also getting ready to jump into a TV show called Red Money which I am very excited about.
NN: Who has been your favorite celebrity to work with so far?
SS: By far, Ice-T. Not only one of the nicest most down to earth genuine person, a tremendous, talented actor.
Follow more of Steve's journey and life via his Instagram account at: https://www.instagram.com/stevestanulis/