WILDCHILDS by Eugenia Melián, a novel about the underbelly of the fashion scene with knowledge from a genuine insider. (Fiction)
"Only with fiction I could tell the truth," – says the Author, Eugenia Melián. "I wrote for three years, I wrote all day, every day, I wrote Saturdays and I wrote Sundays."
This is her first novel.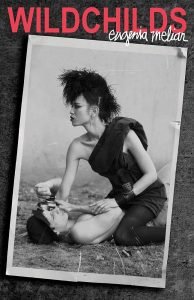 "If fashion photographs could talk, and felt like telling the truth, you'd have Wildchilds – an accomplished and compelling first novel by a true insider. Melian's descriptions of the steamy rise of sexual attraction on a fashion shoot are matched only by her exquisite, enchanted descriptions of a dark and secret Paris unknown to visitors."  –  Joan Juliet Buck, author of The Price of Illusion and editor in chief of French Vogue 1994–2001.
"A delight to read with real insight into the dark side of the 90s fashion scene. Wildchilds has gripping characters and a plot that makes it difficult to put down." – Celia Forner, top model, founder of Alleven
"Wildchilds will take you beneath the surface of the beautiful and seductive fashion world, immersing you in a captivating dark tale where young beauties coexist with master manipulators." – Peggy Sirota, photographer/director.
Feeling compelled to begin this journey through the dark world of the fashion industry, I am about to start reading Chapter One! Join me! Get your copy of  WILDCHILDS at Amazon
About the Author
Eugenia Melián is a former model, fashion photographers' agent, producer, and music supervisor who was born in the Philippines to a Spanish father and an American mother. She was two years old when she and her family relocated to Andalusia, in the South of Spain.
Fast forward to the early 1980s in Paris, she discovered and launched the career of the groundbreaking iconic fashion illustrator and photographer Tony Viramontes. Since that time, and working out of Milan, Paris, London, New York, and Los Angeles, she has managed, art directed, and produced some of the most talented artists of our times.
Find full details about the author HERE.