Judith August, founder and President of Judith August Cosmetic Solutions announces, "After 30 years, it's about time."
A girls got to do what a girls got to do." says August. We all need a bit of rejuvenation and it was time for The Everything Pencil to look a bit refreshed. A clear bold look on the outside, but the same incredible coverage on the inside.
Developed through her work with Cosmetic Surgeons in Los Angeles in 1986, Judith's formula has been endorsed by surgeons, skin care professionals, and makeup artists nationwide. The company is proud to reach its 30 year anniversary of developing and marketing cosmetic products that cover up and conceal just about anything from simple annoying flaws to serious coverage.
Because of its status as a Best-Seller, Judith considers the easy-to-use Everything Pencil to be her signature product. She explains that it works like magic to cover age spots, under eye darkness broken capillaries and more—all detracting features that are not unique to women. The Everything Pencil is small and portable, that can be placed in your pocket or purse. But the reason that it's so popular, according to customer and even celebrity testimonials, is that it works! For those with acne, The EraseZit – Acne and Blemish concealer pencil will camouflage while your skin gets natural benefits such Tea Tree Oil, and Camphor.
Interestingly, it isn't only women who are blown away by the results of these remarkable beauty products. Judith believes that concealers play a pivotal role in the psychological well-being of both women and men. In fact, Judith's hottest selling The Everything Pencil – Face & Body Concealer is equally popular among both sexes. Men, after all, are just as likely to want coverage for scars or, on occasion, even tattoos, and her product, Killer Cover can do just that.
"As a young girl in the world of modeling I realized that, Everybody's' Got Something to Hide!" This has been her motto for many years as she worked among elite models and actresses continually noting that, nobody is perfect! Women in all walks of life can feel insecure about their imperfections. She teaches through her website and her book, "Gotcha Covered – The Compact Guide To Camouflage Makeup", that with the right cosmetic products, right colors and right application techniques, we can all look "nearly perfect!
Ms. August's main focus is to remain accessible to the needs of her clients. Listening to client feedback and suggestions has kept Judith ahead of the competition by leaps and bounds. Customers are treated with personalized service, and everyone receives caring assistance when it comes to choosing the right product to meet their unique needs. Judith says her customers are more like friends to her, so she always wants to insure that everyone is well cared for. Her magnificent staff sees to that.
30 years ago, Judith August Cosmetics found its niche. The company's dedicated followers call it, "The most well-known, underground concealer company around."
Facebook @judithaugustcosmetics – Instagram @judithaugustcosmetics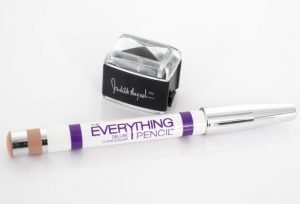 RIGHT NOW GET 20% OFF YOUR FIRST ORDER (Limited time)
Shop here: https://judithaugustcosmetics.com/shop-best-concealer-makeup/