Archives for 2017
I love the idea behind the All Caps shower cap. The cap is about double the size of a standard shower cap, so it can accommodate long hair easily without having the ends stick out the sides and you are able to easily wear it without worrying about crushing a new updo. The cap is made from quality materials making it hypoallergenic and fungus-resistant, which is a great feature considering this is a product that mainly stays in a damp environment in your shower/bathroom, and that you put on your head.
The drawstring makes for a customizable and secure fit with a microfiber band, so it sits comfortably around your head without leaving an elastic crease around your forehead. It is also reversible for multi-use; for the shower, wear the silver, waterproof side out; and for hair masks, flip it inside out to have the silk side on the outside and simply wipe clean or toss in the washing machine. Purchase your All Caps at 
www.allcapshair.com
Guest Post by Antonia Rutter
LOS ANGELES – January 26, 2017 – Nicole Muirbrook-Sheridan was photographed wearing Chris Gramer this week at the Sundance Film Festival! The actress looked cozy and chic in Chris Gramer's Liliana Coat ($725, www.chrisgramer.com) while attending the premier of her film Wind River.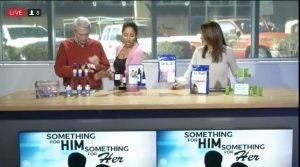 Colorado Aromatics http://coloradoaromatics.com/
Women Oasis Spray Lotion – Rose Geranium ($9.45)
Light enough to feel great on the skin in summer
But great in winter to relieve dry, itchy skin
Contains herbs to reduce itching and help moisturize
Contains anti-aging ingredients which make it a great décolleté spray
Men Coolness After Shave Lotion ($14.45)
Contains herbs (hops, yarrow) to reduce redness and irritation
Contains allantoin, which is soothing and moisturizing and helps to prevent painful ingrown hairs
Scented with peppermint essential oil to give a cooling effect after shaving and just a hint of basil for a nice spiciness.
Great moisturizer
Travertine
http://www.travertinespa.com
Women Travertine Hydrating Body Mist ($26)
Hydrating Body Mist, with jojoba oil and moisture-balancing essential oils, is formulated to invigorate and nourish sun-exposed skin.
Known as a "dry oil" this product sprays wet but rubs in dry to nourish deep down like your best body cream. Favored by estheticians, jojoba oil is non-comedogenic so you can use it all-over to moisturize face, lips and hair. Swimmers love it to alleviate chlorine dryness.
Keep it nearby for when you want to look camera ready.
Men Travertine Steam Shower Spray ($18)
A fragrant shower. An aromatherapeutic experience.
Have you ever been in a steam room, sat down, leaned back, closed your eyes and enjoyed fragrant eucalyptus?
This is a version for your home.
Spray downwards into a warm shower stream and enjoy the inhalation benefits as the steam rises and turns your shower into your very own spa.
Dr. Teals Pure Epson salt soaking solution
Target/Walmart
WOMEN Dr Teal's Lavender Epsom Salt Collection – Soothe & Sleep ($5.99): This best-seller is formulated with lavender essence, which has soothing properties to encourage a better night's sleep. Also available in a convenient 1lb bag!
MEN Dr Teal's For Men Energize & Invigorate Epsom Salt Soaking Solution ($5.99): Men that bath tend to take them more frequently than women. This 12 minute power soak is formulated with Pure Epsom Salt to relieve and revitalize overworked muscles and Natural Citrus Extract to energize and invigorate body and mind, increase athletic recovery and and overall body relief.
Tata Harper
http://www.tataharperskincare.com
WOMEN Tata Harper Love Potion An aromatherapy for love to stimulate the senses, heighten feelings of sensuality and inspire an inner sense of beauty and confidence. ($42)
This aromatic blend helps boost your sense of self with calming, balancing aromas, while warm aphrodisiacs promote feelings of attraction and allure.
Product Benefits:
Promotes feelings of inner beauty, confidence and attractiveness.
Boosts positivity and feelings of love for yourself and others.
Subtle, arousing scent reduces sexual anxiety and tension to awaken sensuality.
Perfect as a daily mood-boosting perfume.
Non-irritating formula can be used even on sensitive skin.
Men – Tata Harper Aromatic Stress Treatment
($80) Dispels feelings of anxiety and stress to promote relaxation with a soothing, uplifting essential oil blend. This aromatherapy promotes overall tranquility and serenity and helps transforms mood and energy.
Product Benefits:
Provides a sense of calm during normal daily tension.
Inspires feelings of peace and relaxation.
Tata Harper Video for reference: https://www.youtube.com/watch?v=0jF6netb9JY
Hers is just one sneak peek of products Enya will showcase today on Your Carolina with Jack and Megan…
by Lisa Gal
Timeless. Exquisite. One of a Kind. These are the words that come to mind when I think of Twila True and their boutique. Twila True is described as a unique destination nestled within the glittering enclave of Newport Beach, California. Inspired by its namesake, the boutique specializes in marrying time honored traditions of the past with jewelry and gifts for today's luxury connoisseur. With a team of jewelers practiced in old world craftsmanship and Twila's vision for the future, Twila True is a place where modern jewelry fantasies come true. Hollywood Swag Bag is pleased to announce that Twila True will take part in their bags being gifted to the SAG nominees, talent and guests staying at The Four Seasons Hotel this award show weekend.
by Lisa Gal
Everyone loves a good facial, especially face masks. It is the quickest way to instantly fill wrinkles, hydrate the skin and dramatically reduce the visible signs of aging. The Australian Skin Institute has developed a Dermal Face Lift Mask that addresses exactly those issues. Its plumping effect is provided by boosting collagen, elastin, and hydration in 30 minutes. Who couldn't stand to look a few (and feel) a few years younger? For the next month their single sheet masks will be on sale, so grab yours before their gone! The SAG nominees and talent staying at The Four Seasons Hotel will be able to get their skin red carpet ready this weekend with their very own mask which they will receive in their Hollywood Swag Bag being gifted to their rooms.
Women all over the world spend hundreds of dollars each year on menstrual products, from pads to tampons to panty liners. Many of these products are either make you feel uncomfortable or introduce your body to harsh chemicals. Not to mention, these disposable menstrual products are no friend to the environment. Luckily, the future of period care has arrived. The Lunette menstrual cup is safe, reusable, and easy to use alternative to the countless amounts of pads and tampons we use each year. It is made of 100% silky soft medical grade-silicone which makes it flexible and comfortable (you won't even feel once it's inserted). One of the best features of the cup is that it can be worn up to 12 hours, which means you can wear it over night! Lunette is affordable and available online at lunette.com
From the Pros:
World-renowned stylist and thinning-hair expert Angelo David Pisacreta, who has worked with thousands of hair-loss clients over the last 25 years, is one of New York's leading authorities on fine and thinning hair. He and his team of experts at Angelo David Salon have consulted with both men and women whose hair loss comes from a multitude of causes, including genetic disorders (which are behind as much as 90% of hair loss), bad reactions to hair products and external impacts, such as losing a limb. Notes Angelo, "Whatever the stage of hair loss a client is experiencing, we focus on three things: prevent, maintain and correct or enhance."
When it comes to hair damage, it is vital to use the right hair care products to help prevent hair loss in the first place.  Often, these can be very simple. For example, Angelo David combs, which are meticulously handmade from a single sheet of high-quality, Italian-produced cellulose acetate, have no burrs to catch and break the hair or create split ends. Their gently rounded teeth ensure an even glide through natural or faux hair with no scalp irritation. Additionally,Angelo David VOL hair products instantly boost volume without questionable additives. They are sulfate- and sodium-chloride free, and contain several beneficial ingredients, such as honey extract for moisturizing, natural anti-oxidants to fight pollutants and silk amino acids, which build protein and strengthen hair.
Stress is a common factor behind hair loss; some women lose up to 70% of their hair from stress related-illnesses. Common stressors that cause hair loss include: starting or stopping the use of birth control pills, scalp sunburn, crash diets, child birth, surgery, divorce, a traumatic accident, taking anti-depressants or other medications and becoming a vegan or vegetarian. Stress shedding is usually temporary, and most women dealing with thinning hair are between the ages of 25 and 35. However, for the one in four women who are predisposed to hereditary hair loss, the hair will not grow back on its own. That's why it is important to follow hair-health regimens to help maintain the hair you have. To that end, Angelo created Hair Detox, an all-natural supplement that helps anyone maintain a healthy head of hair and combat stressors and environmental aggressors.
When it comes to permanent hair loss, after age of 50, many women experience senescent alopecia, the type of hair loss that naturally occurs with age. Unlike female pattern baldness, both the duration of hair growth cycle and the diameter of the hair follicle decreases, leading to thinning hair, eyebrows and eyelashes. Angelo knows how damaging that hair loss can be to women's self-image and confidence. That's why he created Couture Hair to enhance the hair you have or correct the visual appearance of fine and thinning hair.
Angelo David Salon's signature, customized Couture Hair includes hair extensions, fillers, hair pieces, wigs and additions, as well as other customized options for women and men who are experiencing true hair loss. The salon has private consultation rooms, where its team of experts provides thorough, highly personalized consultations. They sample strands of your own hair, so that the Couture Hair can be identically matched to it in texture, density, thickness, color and wave pattern. Some hair solutions mimic the natural scalp, so they can be added right at the part line, while others conceal thinning spots in specific areas, such as the back of the crown. After the application of Couture Hair, the natural hair is cut and styled for a flawless blend.
Angelo David, who has become known as the "go-to" stylist for Couture Hair extensions and thinning hair solutions, recently appeared on "Good Morning America," working his makeover miracles on three women with hair loss problems. According to Angelo, "There is nothing more rewarding than being able to change how someone sees herself, boost her self-esteem and uplift her feelings, all within the course of an hour or two. Every day I get to make someone look and feel wonderful."
About Angelo David Pisacreta
A beauty industry veteran, Angelo David Pisacreta is the owner and Creative Director of Angelo David Salon. He is a world-renowned stylist, colorist and makeover specialist. Additionally, he is the originator of Couture Hair extensions, fillers, hairpieces, additions and wigs, and developer of The Angelo David Hair Care collection. By pairing his impeccable designing skills with artistic cutting, coloring and styling abilities, Angelo has transformed even the most challenging hair into lust-worthy locks. 
About Angelo David Salon
Located on Madison Avenue, the salon boasts a team of highly trained staff members, who are dedicated to making each and every client feel welcome and appreciated. Renowned for Couture Hair Extensions, thinning hair solutions, and Couture Wigs, Angelo David Salon also offers a full range of services and includes seven private VIP Hair Suites. Angelo's vast experience with hair, hair health and hair growth led him to realize that hair health issues often begin inside the body, not on the surface. Angelo David Hair Care and the Angelo David Couture Brush Collection are all available online at www.angelodavid.com.
Follow Angelo David Salon on social media at:
Twitter                 (twitter.com/angelodavidhair)
Facebook            (www.facebook.com/angelodavidsalon)
Instagram            (www.instagram.com/angelodavidhair)
j
by Lisa Gal
Rebel Green was born out of that determination to make highly effective and natural cleaners with that chic, edgy and rebellious flair that defines their products.  Rebel Green only creates products made right here in the USA that are specifically designed to minimize waste and motivate a fundamental shift in thinking about the planet we share. We are excited to have them in our Hollywood Swag Bags honoring the SAG nominees staying at The Four Seasons Hotel for the red carpet weekend. Get on board with Rebel Green by making the world a healthier place by taking care of yourself and your environment naturally. You will also help The Salvation Army when you treat yourself to the Rebel Green Gift Set. Rebel Green is proud to donate a portion of each sale from their gift set to The Salvation Army.