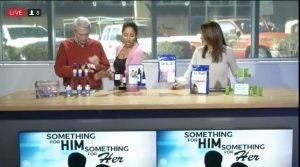 Colorado Aromatics http://coloradoaromatics.com/
Women Oasis Spray Lotion – Rose Geranium ($9.45)
Light enough to feel great on the skin in summer
But great in winter to relieve dry, itchy skin
Contains herbs to reduce itching and help moisturize
Contains anti-aging ingredients which make it a great décolleté spray
Men Coolness After Shave Lotion ($14.45)
Contains herbs (hops, yarrow) to reduce redness and irritation
Contains allantoin, which is soothing and moisturizing and helps to prevent painful ingrown hairs
Scented with peppermint essential oil to give a cooling effect after shaving and just a hint of basil for a nice spiciness.
Great moisturizer
Travertine
http://www.travertinespa.com
Women Travertine Hydrating Body Mist ($26)
Hydrating Body Mist, with jojoba oil and moisture-balancing essential oils, is formulated to invigorate and nourish sun-exposed skin.
Known as a "dry oil" this product sprays wet but rubs in dry to nourish deep down like your best body cream. Favored by estheticians, jojoba oil is non-comedogenic so you can use it all-over to moisturize face, lips and hair. Swimmers love it to alleviate chlorine dryness.
Keep it nearby for when you want to look camera ready.
Men Travertine Steam Shower Spray ($18)
A fragrant shower. An aromatherapeutic experience.
Have you ever been in a steam room, sat down, leaned back, closed your eyes and enjoyed fragrant eucalyptus?
This is a version for your home.
Spray downwards into a warm shower stream and enjoy the inhalation benefits as the steam rises and turns your shower into your very own spa.
Dr. Teals Pure Epson salt soaking solution
Target/Walmart
WOMEN Dr Teal's Lavender Epsom Salt Collection – Soothe & Sleep ($5.99): This best-seller is formulated with lavender essence, which has soothing properties to encourage a better night's sleep. Also available in a convenient 1lb bag!
MEN Dr Teal's For Men Energize & Invigorate Epsom Salt Soaking Solution ($5.99): Men that bath tend to take them more frequently than women. This 12 minute power soak is formulated with Pure Epsom Salt to relieve and revitalize overworked muscles and Natural Citrus Extract to energize and invigorate body and mind, increase athletic recovery and and overall body relief.
Tata Harper
http://www.tataharperskincare.com
WOMEN Tata Harper Love Potion An aromatherapy for love to stimulate the senses, heighten feelings of sensuality and inspire an inner sense of beauty and confidence. ($42)
This aromatic blend helps boost your sense of self with calming, balancing aromas, while warm aphrodisiacs promote feelings of attraction and allure.
Product Benefits:
Promotes feelings of inner beauty, confidence and attractiveness.
Boosts positivity and feelings of love for yourself and others.
Subtle, arousing scent reduces sexual anxiety and tension to awaken sensuality.
Perfect as a daily mood-boosting perfume.
Non-irritating formula can be used even on sensitive skin.
Men – Tata Harper Aromatic Stress Treatment
($80) Dispels feelings of anxiety and stress to promote relaxation with a soothing, uplifting essential oil blend. This aromatherapy promotes overall tranquility and serenity and helps transforms mood and energy.
Product Benefits:
Provides a sense of calm during normal daily tension.
Inspires feelings of peace and relaxation.
Tata Harper Video for reference: https://www.youtube.com/watch?v=0jF6netb9JY