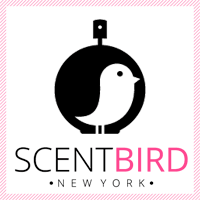 Your choice of a 30-­‐day supply of designer perfume is just a click away New York, NY (April 2015) –
Newcomer to the fragrance market? Scentbird provides a stylish and modern, yet convenient and affordable way to keep your fragrance game on point. For $14.95 USD per month, subscribers to Scentbird will have access to a 30-­‐day supply of over 350 top designer fragrances, including Dolce & Gabbana, Versace, Hermes, Gucci and Marc Jacobs delivered directly to their door in a sleek and beautiful purse-­‐sized spray. The 0.27oz-­‐sized bottle (about the size of a rollerball) contains your choice of perfume. Subscribers can choose their fragrance based on suggestions from Scentbird's TruScent™ Recommender, which leverages a database of thousands of scent profiles and 500,000 reviews by real women. Or, find their match searching by brand, mood, occasion or personality. Customers create a queue of different scents they want to experience in the coming months, or continue on with a scent they feel connected to for as long as they want.
Born out of frustration with the "perfume graveyard"—expensive bottles of designer perfume collecting dust on every woman's dresser—Scentbird was created to provide an alternative for women of today that is both practical and exciting. Mariya Nurislamova, CEO of Scentbird states, "The number one reason women buy perfume is to find something new or different. In fact, most women 18 to 34 no longer believe in having a signature fragrance. These women are used to living a life on their terms, changing their scent on a whim and matching it to an outfit. Expensive perfume bottles that last for years just cannot keep up with a modern woman's lifestyle." With Scentbird, the world of fragrance opens up. Clients have an affordable option to experiment with new scents and to mix up their routine without having to spend hundreds of dollars or commit to one single bottle for years. However, the tactile experience of purchasing a new perfume is not lost. Scentbird perfumes are beautifully packaged and simple to use, and the sophisticated black atomizer is nestled in a luxurious velvet pouch. And with a platform that is friendly to both the indecisive customer and the fragrance-­‐wearer who knows what she likes, Scentbird is a practical option for every type of personality. To become a scent-­‐savvy member of Scentbird and indulge in this affordable luxury at scentbird.com
Scentbird is the perfect gift to give mom the luxury of designer perfume without having to guess….and it keeps on giving!