" Beauty & Skincare Products That Are Getting The Job Done Now". Read Part 1
We recently read an interesting article form the HuffPost, Canada writer Julia Brucculieri. We thought this was a good place to refer to it HERE . The article is titled: "These Common Skin Care Ingredients Should Never Be Used At The Same Time".
Read on for the Products that are getting the job done for us now!
Zatik Nutri Face Serum For All Skin Types should be used morning and evening, that is, morning for All Skin types and evening for Dry Skin types.
We love that, as quoted from the website the serum is, " Formulated with an abundance of cold pressed precious antioxidant rich organic oils and extracts balancing the skin's hydration. It is a Nutrient rich, lightweight oil blend that quickly absorbs and replenishes skin to appear smooth and soft with matte finish." A Matte finish is what really caught our attention. None of use want to walk around all day with a greasy face or grease up our pretty bed sheets and pillowcases.
Here is an interesting note about the Zatik Nutri Face Serum. It can be sued to remove eye make up too with a drop or two on a cotton ball.
Zatik has a Hair Serum for dry, delicate and fine hair. It's formulated with Argan and Black Seed. Find put more HERE.
Zatik Nutri Face Serum For All Skin, Rose Hip & Black Seed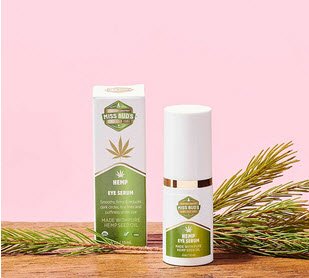 And, if you are looking for a Serum formulated especially for eyes (this serum is formulated with Hemp Seed Oil). Try Miss Bud's Hemp Eye Serum .
The Miss Bud's Hemp Eye Serum reduces dark circles and puffiness while improving skin elasticity. It is made with a blend of Pure Hemp oil, Wheat Germ, Coconut and Sunflower oils. It's vitamin and antioxidant-rich to nourishes the skin. It can be purchased on AMAZON HERE.
You may also have an interest in Miss Bud's Hemp Anti- Wrinkle Cream. Miss Bud's Hemp Anti-Wrinkle Cream helps reduce lines and increase firmness and elasticity. It is made from Pure Hemp Seed Oil
Miss Buds Hemp Eye Serum
Miss Buds Hemp Anti-Wrinkle Cream
Check out the Uncle Bud's products too, right HERE
BALIBODY Hydrating Face & Body Mist
BALIBODY Hydrating Face and Body Mist is fabulous for when your face and body thirsts for moisture from sun exposure or from a dry climate. It's as 'Cool as a Cucumber' formulated with Cucumber and Aloe Vera Extracts. Just spray it on from head to toe anytime you need it. BALIBODY Hydrating Face and Body Mist can also be used to prep skin for make up application. It's a fine mist that works well for multi-purposes. Purchase it HERE.
OZNATURALS SUPER YOUTH RETINOL FACE MOISTURIZER
OZNATURALS SUPER YOUTH RETINOL FACE MOISTURIZER is formulated with a key ingredient of Vitamin A. According to the product description on OZNATURALS.com , " Vitamin A boasts a long list of anti-aging skin benefits to restore your skin to a more beautiful, youthful look."
The product is on sale right NOW . If your are thinking of trying or your dermatologist has suggest a Retinol Moisturizer, it's the perfect time to make your purchase!