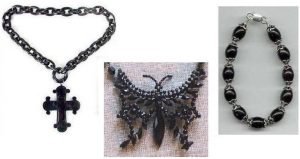 Summer is just around the corner, and with it comes the chance to break out those pieces that make you look fabulous in the sunshine. There are many items in your jewelry box that don't see the light of day over the winter when the cold weather means you have to wrap your body up in layers of clothing. This is the time of year when you get to strip away those layers and dust off those fair-weather trinkets that will enhance your summer style. If you want to look your best, what are the key pieces you shouldn't be without?
Necklaces
Summer means lower necklines and more skin on show, so you can wear larger pieces or use longer chains. The chunky look is in right now, with pieces that encase the neck with a network of stones like a ruff making the boldest statements. If you'd rather be a little less overt, long pendants, particularly those with semi-precious stones that give a natural, earthy look are the way to go. Think jade and amber, or go for the chic black of jet.
Earrings
If it's hot, then unless you want your neck to overheat you're best wearing long hair up, either in a braid, ponytail, in a scarf or under a hat. That means your ears will be on display, and you can go to town with your earrings. Again, you have two key choices. Go for large, showy pieces that draw attention to your ears and shout "look at me!", such as large embellished hoops. Or choose some studs such as the titanium ones available from blomdahlusa.com. These will complement your face with your hair up and make a more understated addition to your look.
Bracelets and anklets
The trend for wearing multiple bracelets continues, with top fashion designers adding their versions to the market. Braided, leather, fabric and rope styles all combine well, or a set of mixed bangles in current styles makes for a different but equally effective look. It's not so comfortable to wear massed bracelets on your ankle, so give it a miss, or go for a single matching piece.
Rings and piercings
It's summer, you can get your belly button on show again! Other than intimate piercings, belly buttons are pretty much the only pierced body part that isn't on show all year round, so make the most of the heat and flaunt your tummy. It's a good time to completely change your other piercings too, choosing lighter metals and designs for the hot weather. If you normally wear rings that cover some of your skin, swap them for slimmer styles that allow your skin to breathe and avoid getting damaged, unhealthy skin issues on your fingers.
With these considerations in mind, you can now look at your summer jewelry collection and see what needs to go and what you need to start shopping for. The right pieces of jewelry make a massive difference to your look, so make sure you've got the best for the summer ahead.