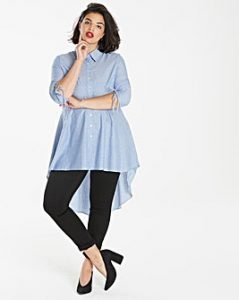 Blouses are an important component of any woman´s wardrobe. Choosing the right one for the occasion is vital if you want to look good.
As you can see here, there are dozens of different styles to choose from. It is always nice to have a choice, but sometimes it can be a bit bewildering, which is why we have put together this post. Below are a few tips and tricks to help you to determine which kind of top is appropriate and buy one that fits you perfectly.
A good work blouse
A lot of us like to wear a suit or skirt in the workplace. Dressing like this makes it easy to look smart and the fact you can take the jacket means you do not have to sit there feeling uncomfortably hot.
Generally speaking, a formal style of blouse or shirt is the right choice for wearing with a suit. It is certainly the safe option. However, you do not always have to wear a plain shirt with a collar. Provided you choose wisely you can just as easily wear a lightweight top under a plain suit. You just need to make sure that when you remove the jacket your top is still modest. It is very important that it is not so thin that your bra can be seen underneath. You also need to make sure that when you bend over you are not showing too much cleavage.
A blouse for your holidays
When you go on holiday try to buy lightweight blouses. They take up less space in your case, and, importantly, are less likely to crease. If you choose one that is made from a fairly thin manmade fabric you can normally rinse it out and get it dry again within a couple of hours.
A blouse for a night out
A night out gives you the chance to kick things up a notch and buy something a bit brighter, and maybe a little more daring. If you can, try to buy the type of blouse that can be worn with more than one outfit.
A blouse for a special occasion
For a special occasion, like a wedding, it is worth spending a bit more money. Potentially a nice cotton blouse can be worn later for work or meals out.
If you opt to buy one in a luxury fabric like satin or silk the chances of your being able to wear it again are slim. However, that does not mean that you should not buy one. You can usually sell them online and get much of your money back. Just be sure to sell it immediately after the event. That way it will still be considered fashionable when you are trying to sell it. This greatly increases your chances of getting a good price for it.
Getting the fit right
Regardless of the type of blouse you choose, it is important that it fits well. This pdf explains the correct way to measure yourself for a top or shirt. It really is worth reading and putting what you learn into action. If you follow this advice you will always look smart and well-groomed.