Do you like to work out by activities such as Yoga, dancing, martial arts, travelling, and ballet? Do you need to work on hardwood floors every day? Since working out requires a lot of sweating and exercises, you need the perfect balance and comfort to go about with these. The world today has the technology and spirit to provide you with the best comfort you can ever get. Here, in this case, you can use high quality grip socks. The next big question – What are grip socks?
What are grip socks used for?
Grip socks are specially designed for providing a strong grip for the activities that require you to be barefoot. These high quality socks are the best choice since they are great for balance and comfort. As a bonus, these socks also keep your feet cozy and warm & fit nice and snug. Barefoot workouts and barefoot fitness are the latest trends today with the activities that let you be fit and stay healthy. Moreover, these socks can also be used by the elderly as a unique alternative to the usual slippers.
     2. Benefits of grip socks
There is more – these socks are able to decrease the probabilities of transferable foot infections and thus protects your feet with utmost care. Do your feet smell bad after a workout? Well, you need not worry now. These socks are your best companions since they reduce the smell your foot gets after a long workout – yes, that's right!
     3. Comfort of grip socks
These special high-quality socks are highly compatible and durable. Due to extensively high skid resistance, these socks are the best choice of design today. These ensure high performance and increase your comfort. The socks have special materials and formulas that prevent you from slipping while working out in all the categories of barefoot activities you love to do.
     4. Socks for jumping
Do you love jumping? How about jumping on trampolines? Sounds fun, right? Who wouldn't love jumping on these marvellous foam pits? These springy playgrounds are the best to sweat out your calories and trampolines are the one-and-only fun way of workout. There is a way by which you can amplify the fun at the trampoline parks by wearing trampoline grip socks.
    5. Secret behind the grip
So how actually do these socks provide such perfection and grip in the jumping rounds of the trampoline parks? These socks and the printing process used to produce these socks use are way much different than the usual methods of using dye sublimation that is currently there in the marketplace. Ankle socks are highly recommended socks and the best ever for trampoline jumping. They use ankle protection with elastic band at the position of your cuff to cover your ankle. These also use heavy material of special yarn used to weave out these fantabulous socks making them durable and strong. These socks also have web squares that allow the sock to breathe freely and thus gives the comfort your feet desire. These socks also have rubber grippers that are herculean and tight enough so that no grippers drop while you are having the best time of your life jumping.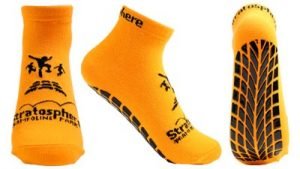 6. Socks for sport
What about Dodgeball? Do you like playing Dodgeball? Well, you can increase the level of fun and excitement in dodgeball by smooth-sailing feet. How? These grip socks are the best choice here too. They provide you with the best grip, balance and are great for such jumping sports
     7. Technology used in trampoline socks
Since there is a lot of jumping and fun involved in trampolining, there are chances that you may lose your socks. But the cuff elastic band technology used in the trampoline socks is so great and fit so well to your feet that you need not worry about losing them. The technology assures you the fact that these grip socks won't easily slide off when you are jumping happily.
     8. Advantages of grip socks
These grip socks are great, no doubt. And the ideas and the technology used in these socks to give you the best comfort and balance makes it sound as if it may be expensive. It is exactly opposite of that. With great comfort and high quality, these socks are cost effective and thus highly popular for the barefoot workout and fun activities that makes you jump. There is another awesome thing about these grip socks. Some of the companies even allow you to custom design your own grip socks, cool – isn't it? Get ready to design your own gripper socks and create your own fabulous custom logo!
Now that you know about how cool – super cool – these grip socks are, you might be considering buying them. Well, these high quality grip socks have risen to top the charts of awesomeness and are indeed the best you can get for all the activities you love to do. These socks being cost effective are what makes it really popular among people and thus is the best choice indeed today!