Archives for May 2017
Get Your Chisel Back Workout
Demonstrated by Elizabeth Colen today on Your Carolina with Jack and Megan.
light Dumbbells are need
1st Exercise
Stand with legs hip width apart hands on thighs palms facing forward.  Bring your hands  level with elbow (L shape) Extend arm forward (like you are serving someone) then open arms to side and squeeze your shoulder blades bring arms back to front, don't put arms down.  Repeat the serving, side and squeeze process. When down with a set bring arms down, rest and repeat.
Recommended:
8-15 reps/3 sets
2nd Exercise
Stand with legs hip width apart place hands above head palm facing forward.  Bring arms to shoulder height and squeeze shoulder blade and raise arms back to staring position.
Recommended:
8-15 reps/3 sets
3rd Exercise
Stand with legs hip width apart and then take one step wider place both dumbbells in right hand (or just one) bend at waist place left hand on knee.  Bring right hand up to chest and return (row).  Then switch arms and repeat motion.
Recommended:
8-15 reps/3 sets
Congratulations Linda C. of Fort White Florida, you have been chosen as our winner of the It's a Glam Thing Surprise Beauty Box. We hope you enjoy your beauty box.
PURA D'OR  Scalp Therapy Shampo             www.purador.com
PURA D'OR Argon Oil                                      www.purador.com
Miss Spa 24kt Gold Creme Mask                   www.miss-spa.com
HBL Hair Masque                                             www.hblhaircare.com
Ulta Beauty Smoothie                                       www.ulta.com
Mineral Fusion Nail Polish                            www.mineralfusion.com
Gerard Lip Creme                                              www.gerardcosmetics.com
The Body Shop Body Sorbet                           www.thebodyshop.com
Bail Moussant Foaming Bath                          www.fruits-passion.com
TonyMoly Cleanser Set                                    www.tonymoly.us
Whish Body Oil                                                  www.whishbody.com
TonyMoly Deep Bubble foam                          www.tonymoly.us
CVS BB Renewing Cream                                 www.cvs.com

For most of us, a trip to the beach is one of the best things about summer. Whether you are off on a family holiday, a relaxing day alone or a fun weekend with friends, a trip to the beach can be an amazing part of your summer. However, many of us worry about looking our best when we shed the layers ready to catch some sun. Looking natural, glamorous and beach ready can be tough, so here's a handy guide to help you get it just right.
Start Looking After Yourself
The best way to make sure you're looking great and beach ready is to start looking after yourself all year around. Some of the best ways to do this include:
Eating right. A healthy and balanced diet doesn't mean starving yourself or cutting out certain foods. It means balance. If you eat well the odd treat won't hurt.
Try to add some cardio and strength training to your weekly routine. If you struggle to find time make some small changes to your day to day life, such as walking instead of driving and taking the stairs instead of the elevator. There are also some great videos on YouTube if you can't get out of the house to exercise.
Drink water. Water is a bit of a miracle worker when it comes to looking and feeling great. It'll help you feel full so less likely to over indulge as well as keeping your skin youthful and tight.
Be sure to get a good night's sleep as often as possible. This will help keep you feeling alert and looking brighter.
Look after your skin. Start a healthy skin care routine. This should include using a body brush to remove dead skin cells and boost circulation, exfoliating your face once a week to unclog your pores, moisturizing, cleansing and wearing a high SPF sunscreen when you go outside.
Hair
Simple styles look best on the beach. Go for beachy waves with a little sea salt spray if you want long flowing locks. If you are going to be playing with kids, or running around, consider a simple braid which looks cool and keeps your hair out of the way. Investing in a good leave in conditioner is a good idea if you plan to spend a lot of time at the beach as salt, sand and sun can leave your hair dry and damaged.
Makeup
A face covered in heavy makeup isn't a great idea at the beach. It will be uncomfortable, hot and you could look a bit silly. Instead, opt for light coverage in natural and nude shades. Mix your normal foundation with some moisturizer for a gentle tone which will leave your face soft and healthy. Add some lip balm with added SPF and a sweep of highlighter for a glamourous beachy look.
Swimwear
Getting your swimwear right can be key to both looking and feeling amazing at the beach. There are many options available so you can show as much flesh as you feel comfortable with. Bikinis come in a range of different shapes and sizes but womens tankinis might make a better option if you are going to be running after kids or trying some water sports. If you feel uncomfortable, don't be afraid to cover up. Adding board shorts or a kaftan can look trendy and glamourous too.
Clothes
Firstly, sand gets everywhere, so take spare clothes. Whatever you wear on the beach, you're not going to want to be travelling home or to your hotel with sand everywhere. There will be chaffing. If you want to continue your beach style when you cover back up, consider maxi dresses, skirts or beach trousers teamed with a light cami for a stylish and sophisticated look.
When it comes to accessories for both style and comfort you'll need a hat and sunglasses. Hats with wide brims and some neck cover are safest. And, make sure your sunglasses offer UV protection.
Relax
The best way to look great at the beach is to enjoy yourself. So, whether you are trying some new sports, building sandcastles with the kids, or lying on the beach reading a good book, don't worry about your look. Smile and relax. Confidence is incredibly sexy. So, put a smile on your face and be proud of your body. You might find that if you act confident, you'll start to feel it.
Remember, most women (and some men) are worried about how they look. That means they don't have time to look at you! No one judges at the beach, so strip off, have fun and forget everyone else.
Mother's Day gift shopping does not have to be expensive. You won't have to break the bank with the MinxNY Kissables Spa Collection. Pamper that special someone with an array of luxurious spa pieces for her to enjoy spa treatment at home. I'll bet she doesn't have any of these spa pieces:
The Kissables Spa Collection Exfoliating Mitt is amazing. Finally, an exfoliating Mitt that won't fall off your hand while washing. The mitt is made of a unique fabric texture that easily removes surface layers of buildup from your body and dead skin instantly. The best part is you can exfoliate with just water. This mitt does not require chemicals, only water to deep clean, minimize and reduce clogged pores of ingrown hairs and dirt. You will notice smooth glowing skin after the first use. After use simply ash and hang to dry.
No Soap needed with The Kissables Spa Collection Make-up Remover & Exfoliating cloth . This is a 2-in-1 cloth and I've never seen anything like it.  One side removes makeup with just water, and the other side is a gentle exfoliator and it's so soft!  This cloth will remove cosmetics, including waterproof mascara without the use of harmful chemicals or synthetic makeup removers. This cloth is easy to clean and is ideal for travel. This remarkable cloth will last up to 1000 washes.
The Kissables Spa Collection  Shower Cap has to be the most comfortable shower cap I have ever used. The outside is 100% waterproof and will keep your hair dry and your hairdo intact. The cap has a  soft cotton-polyester terry lining which wicks away perspiration even in the steamiest shower or bath. Each shower cap includes a travel bag and is great for traveling. If you shower daily but don't wash your hair each time, this is the perfect shower cap.
I no sooner opened my 2-pack of Kissables Fluffy Chenille Socks and my daughter and her friend claimed them on the spot.  They are quite unique as they are lavender infused and have non slip grips on the bottom. They are comfy soft and as my daughter's friend said,  "wow, you can really smell the lavender".  At least I have my shower cap, exfoliating mitt and make-up remover cloth to enjoy when I want to pamper myself.
Mother's Day is just around the corner so check out  www.minxny.com and purchase your Kissables Spa Collection. You will find the collection affordable and fabulous!
LOS ANGELES – May 7, 2017 – Holland Roden was photographed carrying Tyler Ellis at the 2017 MTV Movie And TV Awards earlier today in Los Angeles! The Teen Wolf star accented her fringe dress with her Tyler Ellis Lee Clutch in Blue Crushed Velvet ($1,595,  www.tylerellis.com).
For photos, please contact www.gettyimages.com
In Bristol, planning for a day out with your partner at one of the romantic restaurants is not something that can make you run out of ideas. If you want to treat the special person in your life with a romantic dinner then just go through this article to make a choice. From upscale venues to more affordable places, you will find all types of restaurants here with the assurance that you will enjoy the kind of romantic setting that you have in mind. From the ambience to the decor and from the quality of food and drinks to the professional and heart-warming services, everything is considered. Do not be surprised if you find some of these names appearing in the list of romantic restaurants in Bristol.
Glassboat restaurant
Glassboat is located on the river upon a floating harbour. The riverside setting of this restaurant is a treat in itself, and the elegant interior creates the ambience that can only make you feel romantic. The dishes served also have a soft and sensuous appeal that perfectly complements the overall setting. You will find the very best of French and British dishes that come along with a blend of bistro classics that is equally sophisticated. The view of the city and the harbour from the restaurant is an experience that you will never forget. Whether it's lunch, dinner or you want to make it a memorable date; the place is unbeatable.
Greens Restaurant
This is an ideal place to venture out on Valentine's Day, or you can celebrate the occasion on any other day in the way you want. The restaurant has a fresh and cosy environment created by the soothing interiors, and the well-spaced tables under soft-lit lights are an irresistible attraction for those who are out on a romantic date. Confectioneries like caramel and amaretto biscuits and dark chocolate are something that will fire up your emotions. The food menu is equally attractive and having a taste of it will make you come back to the place once again.
Hotel du Vin and Bistro
The search for a romantic setting will surely drive you to Hotel du Vin and Bistro in central Bristol that has been in the news for the right reasons time and again. The menu is deeply rooted in traditional European cuisine but has a contemporary twist. The quality of food is superb, and the menu changes daily. The price will never make you raise eyebrows, and the interiors and the well-trained staff will please your senses and give you the satisfaction of making the right choice for a romantic evening.
The Rummer Hotel
The hotel in central Bristol boasts of an award-winning kitchen and a cellar that has a range of spirits that is the largest in the region. Romantic couples on the lookout for something unusual on the menu will find this place to be completely matching with their ideas. If you are crazy about cocktails, this place holds a lot of promise for you.
About the author – Donald Moore is a journalist, but his craze for food has made him write about what he enjoys most. Reviewing restaurants is his hobby and listing restaurants by category has driven him to write about the romantic restaurants in Bristol.
I get questions from you guys and one question has been consistent over the last few months. The number one question I have been getting as of late is "How do I curb my appetite?" I am so pleased that you guys are exercising and making mindful changes in your diet. You are fighting the good fight, but sometimes it gets tough and boy do I know it. So, I figured I would answer it in an article. I get it, when you are watching what you're eating, making sure you are eating the right portions and you are hungry an hour later, it's frustrating. Here are a few things you can do to suppress your appetite enough to make it to your next planned meal time.
Drink – When you are done with your meal and still feel a little rumble in your tummy, grab your cup. You can have water or even green tea. Make sure you drink at least 2 glasses (which is a water bottle). Many times, when we think we are hungry we are thirsty. You can also switch it up and have something hot. Coffee or tea is good, be mindful of what you put in it. Sip it slow and savor it.
Brush – It sounds weird but pack that toothbrush in your purse or briefcase. When you are trying to focus on your work but your stomach is grumbling and is focusing on food. It's hard not to keep checking your watch to see if it's time to eat and it's not. Step away for a moment take a break. Grab your toothbrush and head to the restroom, brush your teeth for at least 2 minutes. By brushing your teeth, you disrupt your thoughts of eating and most people don't want to eat right after they brush. It could hold you over till meal time. Trust me it works and not only have you held off the munchies, your teeth will be pearly white.
Chew Gum – When your stomach is talking to you, it is hard to ignore it. However, you can distract it a bit by chewing gum. Chewing gum sends signals to your brain that you are full and chase away those cravings and hunger pangs.
Stay strong make sure you are eating enough protein, fiber rich foods and eat calories vs drinking them. Implement the tricks as needed, they will help you get through those 3 – 4 hours till your next meal. You will hit your target.
Get more info about Elizabeth Colen, Confidence Coach http://www.MsFitOne.com. Fit Mind, Fit Body and Fit Spirit
Summer is coming up and that means its time to liven up your household. With a new season comes new colors, new energy, and new mindset, so why not make the best of it and try out these four quick decor glam tips for your living situation:
FLOWERS: Add some fresh cut flowers to any room – it'll quickly liven it up. Bouquets and small potted plants also make great takeaways for party guests for those summer gatherings you are bound to have.
SHELLS: I store shells, sea glass and other treasures I've collected from the beach in gold (and sometimes silver) crystal bowls around the house. Everyone, whether you live here in California or not, likes to feel close to the beach in someway.
PAINTINGS: If you like art, why not paint some small hand-painted items to hang around?! It'll also give you bragging rights when guests come over.
FRUIT: Adding fresh fruit to a pitcher of rosé makes the perfect summer sangria.
When people think about adult entertainment aka porn, they think about the hottest women doing crazy sexual things. And while yes, the women on-screen are very fabulous, their jobs (like other jobs across America) can be a long and tedious process.
It's A Glam Thing wanted to sit down and get to know more about the life of a "porn star" away from just what one may see in their countless videos. So, we turned to Bobbi Dylan, who now lives in Las Vegas and has recently made headlines as one of the top American "virtual reality" adult entertainment stars – yes, virtual reality technology has now moved into the adult movie industry!
Bobbi talked to us exclusively about the new technology, but also about her fashion away from set, what she carries in her purse and about some misconceptions people have about her job…
Nick Northstar: While many people who know your name may remember you for how you look without clothing, how would you describe your own personal fashion style away from set?
Bobbi Dylan: I have a style mantra of comfortable and chic. I like vintage things and staple pieces in my wardrobe.
NN: Heading into the warmer months now, what are some of your favorite clothing brands these days?
BD: I don't really follow any particular brands… However, I've been loving the flowy crop tops, colorful skirts, summer dresses, and combat boots.
NN: The word "Glamorous" can mean many different things, …especially in your type of industry, but what is its definition to you?
BD: When I think "glamorous", the first things I imagine are glowing skin, a big genuine smile, and happiness!
NN: We have heard from various former adult stars' tell-alls about how the porn industry sometimes can be quite horrific at times. Would you say the world of adult entertainment can be glamorous at all? Are there any "glamorous" aspects?
BD: Occasionally, yes. It can be glamorous with the parties and events we go to, where we even have red carpets and we get to show our favorite outfits off for fun.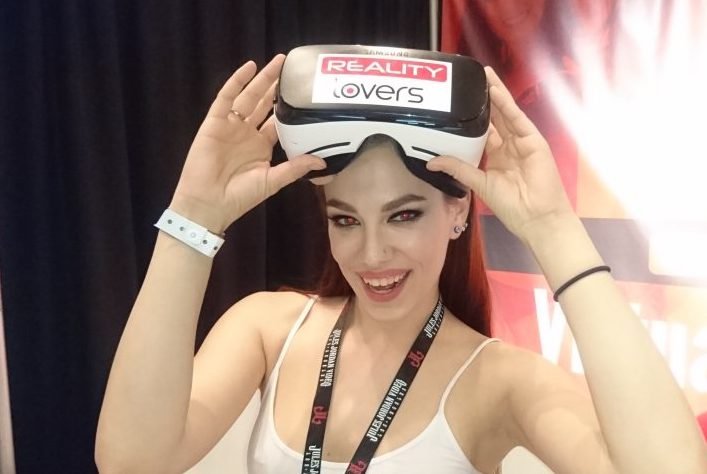 NN: With technology changing and evolving, you have started to work with virtual reality companies such as Reality Lovers to film scenes that are within the virtual reality world. What are your thoughts overall on the technology and how is it shooting with this new technology around you?
BD: I love shooting immersive virtual reality scenes, it gives my fans and all viewers a chance to be with me without all the travel. In a way, they can finally direct their own porn and choose to focus on whatever detail they like and spend time watching what their favorite parts are rather than what the director focused on when filming. I recommend everyone to try watching porn in VR as it is an out of this world experience!
NN: Why would you say virtual reality really is the future in the adult entertainment industry?
BD: Fans are able to look around at certain body parts the entire time; No more fast-forwarding through the video because you can always choose to look at your favorite parts! It is also a lot more captivating than regular porn – it really is like you are there. I believe that sooner or later, it will be a household standard to own a VR headset and watch entertainment, whether it is porn or regular blockbuster movies, in virtual reality.
NN: With all this technology talk, do you consider yourself a geek/nerd at all? What type of things have you "geeked-out" about before?
BD: Yes, of course! I love crocheting, sewing, cosplay, and binge watching TV shows. I attended the first anime convention in my state as a kid and was dressed as Sailor Moon.
NN: What is the biggest misconception people may have about adult entertainers?
BD: People assume rather than get to know us. A lot of people think that we are not educated, while many of us have college degrees. Also, many of us are at work 24 hours a day, 7 days a week – working on our own sites, filming, and editing our own content.
NN: What do you love most about what you do?
BD: I love being able to help make fantasies come true and help people explore their sexuality.
NN: What does the future hold for you from here?
BD: Going forward, I'd love to do more filming as well as working on getting an RV to travel around the country in order to visit more places.
NN: What is one product in your purse right now you cannot live without?
BD: Living in the desert, I always have to have gum to keep my mouth moist and occupied so I don't accidentally get chapped lips.