When people think about adult entertainment aka porn, they think about the hottest women doing crazy sexual things. And while yes, the women on-screen are very fabulous, their jobs (like other jobs across America) can be a long and tedious process.
It's A Glam Thing wanted to sit down and get to know more about the life of a "porn star" away from just what one may see in their countless videos. So, we turned to Bobbi Dylan, who now lives in Las Vegas and has recently made headlines as one of the top American "virtual reality" adult entertainment stars – yes, virtual reality technology has now moved into the adult movie industry!
Bobbi talked to us exclusively about the new technology, but also about her fashion away from set, what she carries in her purse and about some misconceptions people have about her job…
Nick Northstar: While many people who know your name may remember you for how you look without clothing, how would you describe your own personal fashion style away from set?
Bobbi Dylan: I have a style mantra of comfortable and chic. I like vintage things and staple pieces in my wardrobe.
NN: Heading into the warmer months now, what are some of your favorite clothing brands these days?
BD: I don't really follow any particular brands… However, I've been loving the flowy crop tops, colorful skirts, summer dresses, and combat boots.
NN: The word "Glamorous" can mean many different things, …especially in your type of industry, but what is its definition to you?
BD: When I think "glamorous", the first things I imagine are glowing skin, a big genuine smile, and happiness!
NN: We have heard from various former adult stars' tell-alls about how the porn industry sometimes can be quite horrific at times. Would you say the world of adult entertainment can be glamorous at all? Are there any "glamorous" aspects?
BD: Occasionally, yes. It can be glamorous with the parties and events we go to, where we even have red carpets and we get to show our favorite outfits off for fun.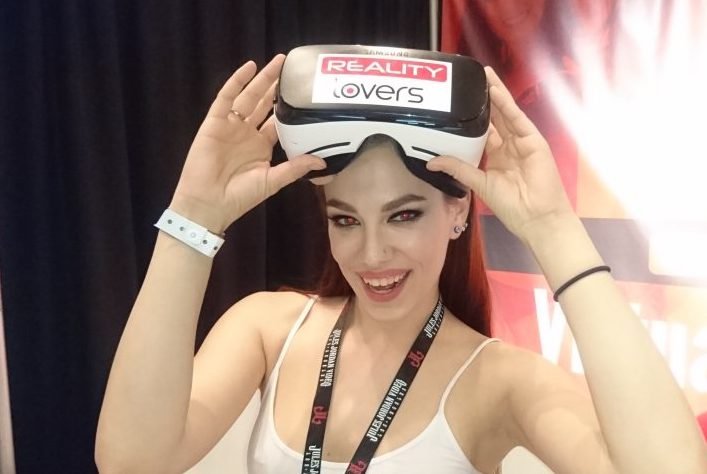 NN: With technology changing and evolving, you have started to work with virtual reality companies such as Reality Lovers to film scenes that are within the virtual reality world. What are your thoughts overall on the technology and how is it shooting with this new technology around you?
BD: I love shooting immersive virtual reality scenes, it gives my fans and all viewers a chance to be with me without all the travel. In a way, they can finally direct their own porn and choose to focus on whatever detail they like and spend time watching what their favorite parts are rather than what the director focused on when filming. I recommend everyone to try watching porn in VR as it is an out of this world experience!
NN: Why would you say virtual reality really is the future in the adult entertainment industry?
BD: Fans are able to look around at certain body parts the entire time; No more fast-forwarding through the video because you can always choose to look at your favorite parts! It is also a lot more captivating than regular porn – it really is like you are there. I believe that sooner or later, it will be a household standard to own a VR headset and watch entertainment, whether it is porn or regular blockbuster movies, in virtual reality.
NN: With all this technology talk, do you consider yourself a geek/nerd at all? What type of things have you "geeked-out" about before?
BD: Yes, of course! I love crocheting, sewing, cosplay, and binge watching TV shows. I attended the first anime convention in my state as a kid and was dressed as Sailor Moon.
NN: What is the biggest misconception people may have about adult entertainers?
BD: People assume rather than get to know us. A lot of people think that we are not educated, while many of us have college degrees. Also, many of us are at work 24 hours a day, 7 days a week – working on our own sites, filming, and editing our own content.
NN: What do you love most about what you do?
BD: I love being able to help make fantasies come true and help people explore their sexuality.
NN: What does the future hold for you from here?
BD: Going forward, I'd love to do more filming as well as working on getting an RV to travel around the country in order to visit more places.
NN: What is one product in your purse right now you cannot live without?
BD: Living in the desert, I always have to have gum to keep my mouth moist and occupied so I don't accidentally get chapped lips.